The Irene Gandy Directing Assistantships
Applications Open Now
Deadline: January 2, 2024
THE IRENE GANDY DIRECTING ASSISTANTSHIPS
In an effort to remove barriers to access that disproportionately affect BIPOC/Global Majority directors in the early stages of their careers, The Drama League Irene Gandy Directing Assistantships partners with acclaimed BIPOC/Global Majority stage directors to provide assistant directing opportunities to early-career BIPOC/Global Majority and/or historically marginalized directors on their productions across the United States.
The goals of this program are urgent and necessary. First, the assistantships address disproportionate impediments to access that are pervasive and damaging to the field's future viability. Secondly, they offer a rare opportunity for the passing of knowledge, skills, and experience from generations of BIPOC/Global Majority directors to the next, offering techniques to successfully employ against racism, inequity, and injustice in rehearsal, casting, and production procedures. Third, it ensures a multiplicity of voices in this important creative role, better serving the entire community.
The assistantships offer a peer-to-peer mentorship model. The Drama League provides each assistant director's remuneration, travel, and pre-production preparation resources. Bridging theater and practice, this program offers an experience of the field when rooms are led by BIPOC/Global Majority directors.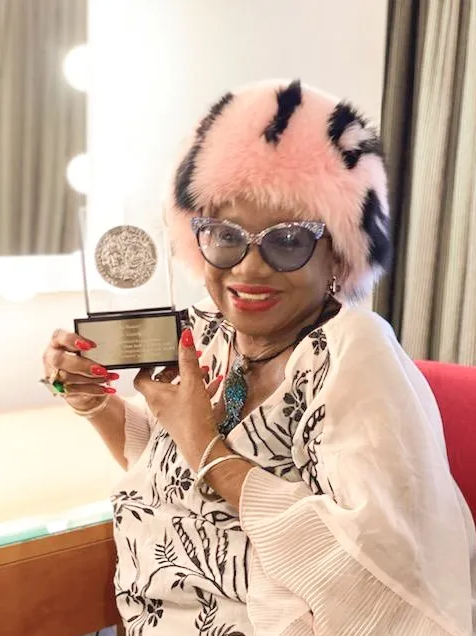 The Irene Gandy Directing Assistantships were established by donors with a specific interest in sustaining the future of the American theatre. To join the Leadership Circle for these programs, please email Helen O'Rourke.
The recipient of the 2020 Tony Award Honor for Excellence in Theatre, Irene Gandy's work on Broadway began over 50 years ago, as a publicist with Douglas Turner Ward and Robert Hooks' Negro Ensemble Company. Since then, she has worked on over 100 Broadway shows, including August: Osage County, Glengarry Glen Ross, Radio Golf, Bubbling Brown Sugar, Smokey Joe's Cafe, Lena Horne: The Lady and her Music, Me and My Girl, Spring Awakening, Talk Radio, Speed-The-Plow, Bloody Bloody Andrew Jackson, Chinglish, The Glass Menagerie, The Heidi Chronicles, Thoughts of a Colored Man, The Great Society, American Son, Fiddler on the Roof, You Can't Take It With You, and The Wiz, among others. She has worked with producer Jeffrey Richards for over three decades; their recent credits include Purlie Victorious starring Leslie Odom, Jr. and Ohio State Murders, The Gershwins' Porgy and Bess, and Lady Day At Emerson Bar and Grill, all starring Audra McDonald. She is the only Black female press agent with membership in the Association of Theatrical Press Agents and Managers, and is the recipient of the National Action Network's Woman of Excellence Award, the Vanguard Award from Black to Broadway Productions, the Black Public Relations Society Award, the Pioneer Award for Black Pride NYC, and the Café Mocha Media Legend Award. In 2018, she was honored with the Vivian Robinson/AUDELCO Pioneer Award for Excellence in Black Theatre. In 2019, she was honored with the NAACP-LGBTQ David Weaver Prize for Excellence in the Arts; a year later, she was inducted into New York Public Lincoln Center Performing Arts Library as part of The League of Professional Theatre Women's Oral History Project. In 2008, she became the first female press agent to be immortalized with a Sardi's caricature.
Pre-Production (varies, remote), Rehearsal/Tech (4-7 weeks)
Offered every year
(production location varies)
$850/wk for in-person rehearsal duration up to opening night, not to exceed seven weeks (and may be less, depending on production)
Click each month for program details
July
July (TBD, occasional, online/remote)
ASSISTANTSHIP PREP WORKSHOP
Assistant directorships begin with discussions of the practice, expectations, and evolving role of assistant directors.
TBD
Travel to/from city of rehearsals/tech/performance provided; up to $200 reimbursement for in-city transportation
Additional Housing reimbursement of up to $200/week for in-person duration for recipients living more than 25 miles outside the metropolitan area of the production's base
VIP Pass to all publicly offered Drama League programming during Assistantship
Access to Alumni Programming and Events
Lifetime Drama League 

Artistic Membership
ADDITIONAL INFORMATION:
Early-career directors are eligible to apply who have not held the position of assistant directors on more than three Broadway, Off-Broadway, or LORT productions.  
This program deeply encourages applications from early-career stage directors who self-identify as Global Majority, Black, African-American, Hispanic, Latine (Latino/Latina), AAPI (Asian-American/Pacific Islander), Indigenous, MENASA (Middle Eastern/North African/South Asian), Biracial persons, Mixed-Identity persons,
Persons of Color, and/or people of historically marginalized communities, for whom this program was designed in mind.
Directors must exhibit through their application materials professional experience as a director in the early stages of their career.  Applicants currently enrolled in a program of higher learning will not be considered until after it is completed.
Applications are welcome from directors whose paths to direction may have been nonlinear or nontraditional.
QUESTIONS? 
You may find your answer on our F.A.Q. page for artists, 
which includes information about eligibility, application materials, and more. 
As the nationwide data in Stage Directors and Choreographers Union's 2020 "Next Stage Report" revealed, only 11% of directors hired on Broadway or in stock theaters identified as persons of color, despite being 44% of the general United States population in the 2020 Census.  Among the country's largest theaters, LORT A+, zero directing contracts were filed by BIPOC/Global Majority directors with SDC in the 2018-2019 season. Facing these undeniable barriers to equity, there is a wide call in the American Theatre community, and in society, to center communities of color to address the generations of industry-wide centering of whiteness.  The Drama League recognizes this call to action, and joins the many similarly-minded programs that have initiated in recent years across the field, including the BIPOC Casting Fellowship, the TCG Theaters of Color Re-Grant, the SDC Foundation Lloyd Richards New Futures Residency, the Shubert BIPOC Artistic Circle, the Black Theatre Coalition Apprenticeship and BTC Broadway Across America programs, and New Victory Theatre's LabWorks, among others.  The Drama League, however, will address specifically the role of director-led learning via production, the first program to do so.  The Irene Gandy Directing Assistantships were developed with a working committee of the Drama League Directors Council, an advisory body of leading freelance stage directors, artistic leaders, educators, and film/tv professionals.  
Fellowships
The Drama League Fellowships are career-transforming opportunities for stage directors focusing on creative learning, skill building, and career development.

Residencies
The Drama League Residencies develop and incubate director-led projects for live performances, utilizing the resources of the Drama League in New York City.
See Current Fellows
& Residents
The Drama League is a creative and career development home for directors, and a platform for dialogue with the audiences they inspire in theater, film, television, online, and anywhere live performance is found.  Launched in 1916, The Drama League is one of the longest continuously-operating arts service organizations in the United States.  To be a part of our community supporting future generations of artists, please visit dramaleague.org/membership.