Keeping things cool at the Ice Factory
Wednesday, July 11th, 2012
by Elizabeth Kennedy
The New Ohio Theatre's 2012 festival features three alumni productions
The New Ohio Theatre, founded in 1994 by playwright/director Robert Lyons, stages a six week long theatre festival each summer.  Known as Ice Factory, the festival is a platform for both emerging and established theatre companies to perform innovative and exciting new work. This summer's 19th annual festival will include one Manhattan premiere, two New York premieres, and two world premieres. Six wildly different plays will be performed throughout the festival. Three are directed by Directors Project Alumni: The Pilo Family Circus, directed by Joe Tantalo, Miss Lilly Gets Boned, directed by David F. Chapman, and The Girl of the Golden West, directed by Jeremy Bloom. We'll feature The Girl of the Golden West on the blog in a couple weeks!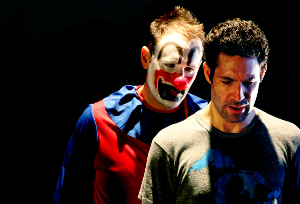 The Pilo Family Circus, written by Matt Pelfrey, centers around Jamie, a young boy forced to join the circus by a group of sadistic clowns.  As Jamie becomes immersed in the carnival world, he meets a cast of macabre characters – acrobats, clowns, dwarves, freaks, and fortune tellers.  However, the deadliest character of them all is JJ, Jamie's evil clown alter ego, who will stop at nothing to kill Jamie.  The dark subject matter makes for a spooky and exciting new show.
Godlight Theatre Company is the production company producing the play.  Founded by alum Joe Tantalo in 1994, Godlight Theatre Company strives to adapt 20th and 21st century novels into innovative plays.  Past work includes productions of George Orwell's 1984, Kurt Vonnegut's Slaughterhouse-Five, Jose Saramago's Blindness, and Ray Bradbury's Farenheit 451.  Known for their creative and unexpected staging, Godlight was honored with a Special Drama Desk Award for their consistent originality in creating excellent novel to stage adaptations.
Not in the mood for horror?  Check out Miss Lilly Gets Boned, which revolves around virginal Sunday school teacher Miss Lilly.  Miss Lilly thinks her prayers have been answered when she meets Richard, the man of her dreams.  Richard is handsome, foreign, and charming; the very embodiment of her Hugh Grant romantic fantasies.  There is just one problem – Richard is the recently widowed father of one of Miss Lilly's new Sunday school students.  Meanwhile, Dr. Vandalla Bhalla tries to reform Harold, a very naughty 6-year-old African elephant.  The end result is a hilarious play that covers a spectrum of topics – spiritual revelations, romance, fraught sibling relationships, precocious children, sex, violence, and death.
Chapman initially became interested in Miss Lilly Gets Boned four years ago when he read it at the Lark.  Written by Bekah Brunstetter, a friend of Chapman's since their college days when they were co-artistic directors of the University of North Carolina – Chapel Hill's student theatre company The Lab!, Chapman was immediately drawn to the dark and hilarious play.  Chapman describes Brunstetter's work as "always layered – more than meets the eye.  Plus, she's very smart about her writing.  It sometimes seems casual or off-the cuff, but it's actually very carefully constructed."  Frequent collaborators, Brunstetter and Chapman have worked on many productions together over the years.  Highlights include workshops of Hey Brother and Eve, as well as a production of Roberta Laughs at the Abingdon Theatre when Chapman was a Drama League Directors Project Fellow.  Miss Lilly Gets Boned marks their fourth time working together and Chapman is excited to stage a play that "reveals something very true about human nature through the most unexpected lens."
Studio 42, a non-profit theatrical production company, is producing the play.  Led by another Directors Project alum, Moritz von Stuelpnagel, Studio 42's mission is to stage "unproducible" plays.  What makes Miss Lilly Gets Boned "unproducible"?  Apart from the risqué title and subject matter, there are also many technical obstacles to staging the play.  For example, three puppeteers are needed to operate Harold, the life-size young elephant.  Ultimately though, these "unproducible" elements combine to create a play Chapman describes as "a good balance of funny, strange, and dark."
The Pilo Family Circus begins today and runs until July 14.  Miss Lilly Gets Boned runs July 18-21.  Both plays are at the New Ohio Theatre at154 Christopher Street.  All performances are at 7 P.M.  Tickets are $18 for adults and $12 for students and seniors. Tickets and more can be found at newohiotheatre.org/icefactory2012.
What festivals are you excited for this summer? Tell us in the comments! We love reading them.